WHAT'S NEW AT DAIRYTECH SOUTH?
XMAS AND NEW YEAR HOLIDAY HOURS
To all our valued customers, Thank you for a fantastic year.
Our holiday trading hours are as follows:
CLOSED:   Monday 25th - Tuesday 26th December '23
OPEN:       Wednesday 27th - Friday 29th December '23 8am-5pm
CLOSED:   Monday 1st - Tuesday 2nd January '24
OPEN:       Wednesday 3rd January '24 8am-5pm
Back to normal trading hours.
Our team is on call 24/7 for all your on farm needs.
WINTON 03 236 8324
GORE 03 208 8324
https://dairytechsouth.co.nz/contact-us/
(Click the icons below)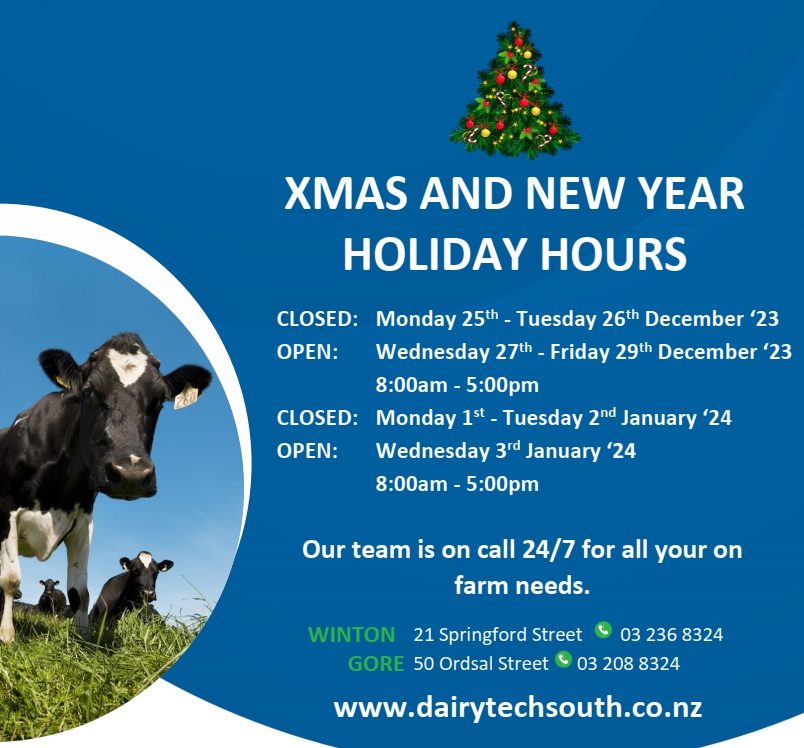 TRADE IN DEAL!
Let us take some weight off your shoulders!
Whether you are looking for a lighter cluster or more volume we've got you covered.
Talk to our team today for a sharp trade in deal on MilktechNZ® claws. This is a limited time offer and strictly ends 31 March 2024.
*T&C's apply. 
To find out more call your local Dairytech South Dealer:
WINTON 03 236 8324
GORE 03 208 8324
https://dairytechsouth.co.nz/contact-us/
(Click the icons below)